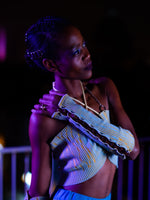 versatile and powerful knitwear
LILA&JOHN creates supreme colorful, versatile knitwear with an urban touch.  
My collections aim to empower people of all ages, backgrounds and sizes and nourish their inner strength and beauty. I create a wardrobe for people who don't fit into boxes. LILA&JOHN is made to be worn and shared by real people in real cities.
Discover the current collection
What our customers say
Straight forward, good style. the right colors, honest & sincere.

Nina Serulus, Curator
Add customer reviews and testimonials to showcase your store's happy customers.

Author's name
Add customer reviews and testimonials to showcase your store's happy customers.

Author's name
Badass, empowering, deeply and beautifully emotional.

Jana Coorevits, Filmmaker
Balanced between bold and bright yet soft and melancholic.

Ryma Merghoub, Lawyer